KEPCO, Building a fine dust reduction system in Yeonpyeongdo Island
페이지 정보
작성자
현대머티리얼
조회
66회
작성일

20-07-23 14:31
본문
KEPCO, Building a fine dust reduction system in Yeonpyeongdo Island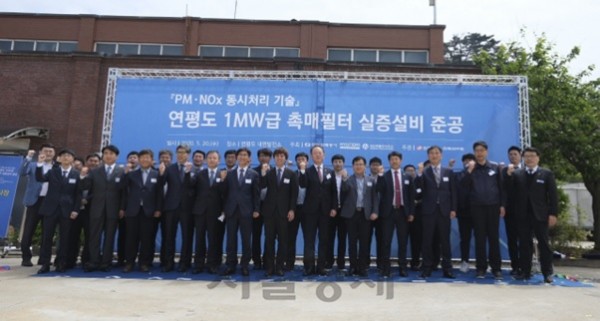 The KEPCO power research institute developed a 1MW class fine dust nitrogen oxide co-treatment catalyst filter facility system that can minimize generator pollutant emissions and announced their ceremony held on the 20th.
The catalytic filter system developed by KEPCO is a result of joint research with Hyundai Materials and Heesung Catalyst. KEPCO explained that it is possible to simultaneously remove fine dust and nitrogen oxides from diesel power plants installed in the island region.
Earlier, KEPCO has begun to develop related technologies from 2018 in line with the 'Comprehensive Measures for Fine Dust Management' announced by the Ministry of Environment. The catalytic filter facility demonstration is expected to be completed by the end of this year.  A KEPCO participant said, "this demonstration facility is a diesel engine pollutant reduction device developed with pure domestic technology" and that "in the future, we will work to develop an eco-friendly technology like fine dust and catalytic filter systems to reduce pollutants."
During the dedication ceremony held on this date, more than 30 people from industry and academia attended including Dongseop Kim, vice president of business generalization at KEPCO, Sookcheol Kim, head of Korea Electric Power Research Institute, Yongjun Lee, director of Hyundai Materials, and Hyeonsik Han vice president of Heesung Catalyst.
​
​
[From] 서울경제 / 김우보 기자 (ubo@sedaily.com)
[Registered] 2020-05-20
[Link] https://www.sedaily.com/NewsView/1Z2TP6YLEV​