Busan Port Authority, Development of Diesel Transfer Crane Fine Dust R…
페이지 정보
작성자
현대머티리얼
조회
62회
작성일

20-07-23 14:06
본문
Busan Port Authority, Development of Diesel Transfer Crane Fine Dust Reduction Device.
​
Reduced more than 80% of nitrogen oxide, etc.…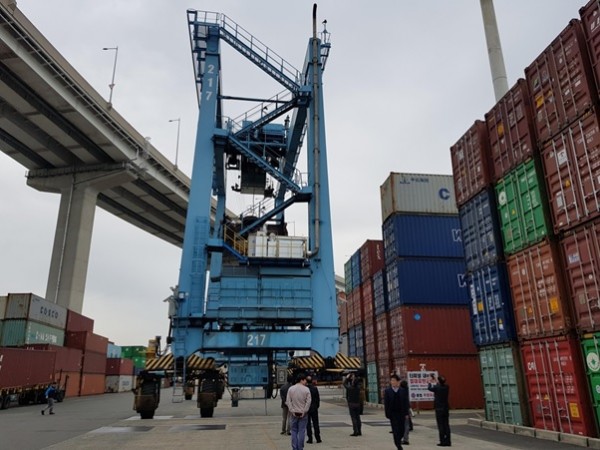 Transfer crane installed with emission reduction device
Busan Port Authority has announced that they have completed the development of (DPF) Diesel Particulate Filter System in reducing air pollutants of transfer cranes using diesel.
Transfer crane is an equipment that loads or moves containers to on-dock CY
All 239 units operating at Busan New Port are moved by electricity so they do not emit air pollutants, but 37 of 122 units used in Busan North Port still uses diesel as a fuel and emits a large amount of nitrogen oxides and etc.
Based on research, the Port Authority estimated that 77.2t of particulate matter and 521.5t of nitrogen oxides are released per year.
Pollutants emitted by previous transfer cranes without DPF.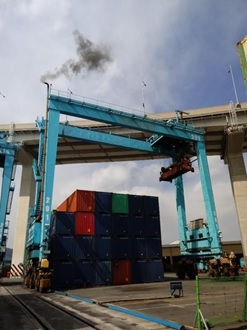 [Busan Port Authority supply – no resale and DB]
In order to reduce this, Busan Port Authority developed a diesel transfer crane DPF with the Korea Institute of Machinery and Materials and Hyundai Materials from May of this year and has completed a two-month field demonstration at The North Port of Shingamman Wharf.

As a result of installing the developed DPF on the equipment, there was a reduction of up to 80% in air pollutant emissions…
Busan Port Authority will transfer this technology to private enterprises to promote commercialization and suggest to the government that the system improvement would be an obstacle to dissemination.
The port transfer crane is not classified as construction machinery, so it is not an eligible target for installation of emission reduction equipment, and the recently enacted special law on air quality improvement, such as the port area, does not have emission standards and support for the existing cranes.
The participant from Port Authority mentioned that "As there are many diesel transfer cranes in ports across the country, system improvements and support must be preceded to reduce fine dust through DPF supply".
[From] 연합뉴스/이영희 기자 (lyh9502@yna.co.kr)
[Registered] 2019-12-10
[Link] https://www.yna.co.kr/view/AKR20191210157600051?section=search