Commemoration Ceremony held by Hyundai Materials in Launch of Scrubber…
페이지 정보
작성자
현대머티리얼
조회
89회
작성일

20-07-23 13:44
본문
Commemoration Ceremony held by Hyundai Materials in Launch of Scrubber in Greece
 - Plan to equip on the vessels in Greece (Ship Owning Company) SEANERGY
 - Plan to install five ships sequentially from May of this year.
Hyundai Materials (Representative Director: Unjae Cho), a company specializing in eco-friendly facilities of Hyundai Motor Group, held a commemoration ceremony for the 1st and 2nd scrubber launch on April 2, in scheduled to be installed on the ship of SEANERGY, Greece.
​
The commemoration ceremony of this scrubber release was attended by the Technical Director of SEANERGY, Greece, and starting in May of this year, it will be sequentially installed on five of the company's vessels.
​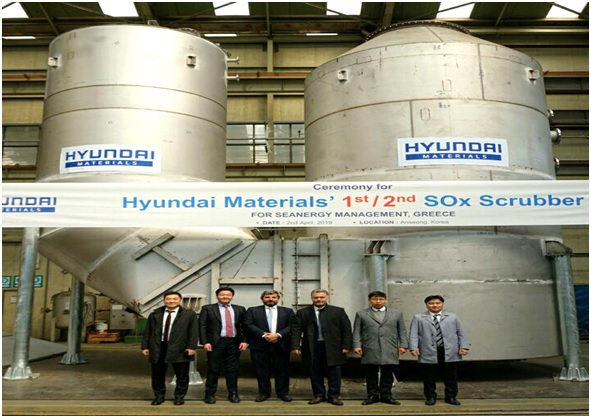 ​
Hyundai Materials held a commemoration ceremony in launching the 1st and 2nd scrubber on the ship of SEANERGY, Greece, on April 2nd.
​
Amid growing competition among domestic and international scrubber manufacturers, Hyundai Materials has released an advanced scrubber based on non-packing technology without fillers, unlike other manufacturers.
​
The strengths for Hyundai Materials products, in particular, are greater maintenance cost savings than other products due to the use of fillers, and that the volume can be reduced by 20% compared to existing facilities.
​
As a result, it has received a lot of attention from domestic and foreign shipowners and has already received orders from a large number of shipowners.
​
For most companies that supply scrubber, there are also concerns that packing type scrubber using fillers can affect the payback time due to high maintenance costs, which may demean the meaning of scrubber mounting. In fact, some shipping companies are known to take the wait-and-see attitude.
​
During the launch ceremony a participant of SEANERGY said "we have been able to see the production site with Hyundai Materials' high-performance scrubber, which gives us more confidence in our quality control capabilities" and that "we are pleased to receive the first and second products, and we thank Hyundai Materials officials for their efforts to produce high-quality scrubbers, even during short delivery periods".
​
Meanwhile, in addition to producing scrubbers, Hyundai Materials expressed the ambition to establish consortium with Korea's leading technology holders, establish consistent supply system (Turnkey Base) including engineering and installation, and to provide the highest quality services, while establishing as a leading foundation company in this field.   
[From] 스틸데일리/손연오 기자 (kason@steelnsteel.co.kr)
[Registered] 2019-04-03
[Link] ​http://steeldaily.co.kr/news/n_view.asp?NewsID=136654&T_M_Code=130&D_F_Code=Main&Key_F03=8&strURL=/search/search_list.asp&strTopSearch=%C7%F6%B4%EB%B8%D3%C6%BC%B8%AE%BE%F3&Page=1&re=1