Scrubber installation, Korean alliance building.
페이지 정보
작성자
현대머티리얼
조회
31회
작성일

20-07-23 13:38
본문
Scrubber installation, Korean alliance building.
​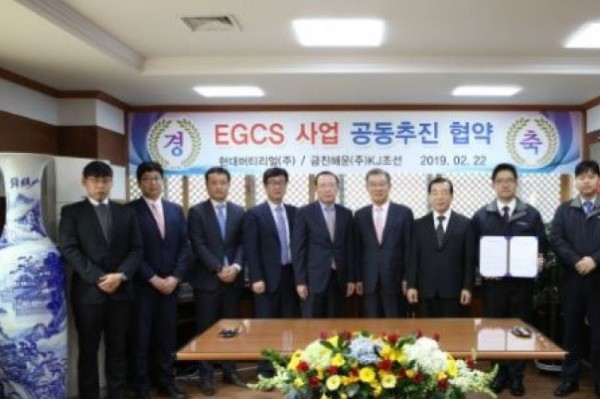 ​
​IMO (International Maritime Organization) plans to implement regulations to reduce SOx emission, the cause of ship air pollution, from sailing vessels around the world from 3.5% to 0.5% starting January 1, 2020.
​
The installation of scrubbers as one of the methods to respond to regulations, to date, the project was conducted with a consortium of overseas scrubber maker products and domestic shipyards.
​
The Korean Alliance has launched a bold challenge to respond to the SOx regulations together with the supply of scrubber by an environment-friendly equipment manufacturer, Hyundai Materials Co., Ltd., the shipping Retrofit (remodel) engineering with Jewon Engineering Co., Ltd., and installation and supervision of the shipyard accompanied by KJ Shipbuilding Co., Ltd., and have been working in a direction with the production and installation of domestic scrubbers, which are expected to have ripple effects throughout the actual business.
On February 15, 2019, the Korean Alliance signed a $30 million contract with Israel XT Shipping for ten 4,800 TEU-class container ships, and if the use of dry docks with shipyards that are reviewing related projects such as Hanjin Heavy Industries becomes visible, the number of installations is expected to meet a booming market that is growing significantly in the second half of this year.
The Korean Alliance is expected to bring vitality to the Korean shipbuilding industry, which is in trouble due to the shipbuilding recession, to open new markets and to build infrastructure for shipbuilding-related industrial personnel in Busan-Gyeongnam
Area, and in the midst of the deterioration of the management of domestic shipbuilders, this can lead to cost reduction through the alliance of domestic companies, and new markets are expected to be added amid changing environmental regulations.
​
[From] 일간조선해양
[Registered] 2019-02-25
[Link] ​http://kr.asiasis.com/detail.php?number=28869&thread=25​​