Hyundai Materials signed a scrubber supply contract with 19 vessels of…
페이지 정보
작성자
현대머티리얼
조회
20회
작성일

20-07-23 13:24
본문
Hyundai Materials signed a scrubber supply contract with 19 vessels of
Ciner, Turkey. 
SOx reduction facilities discharged from scrubbers and ship engines Won contract after competing with European
scrubber manufacturer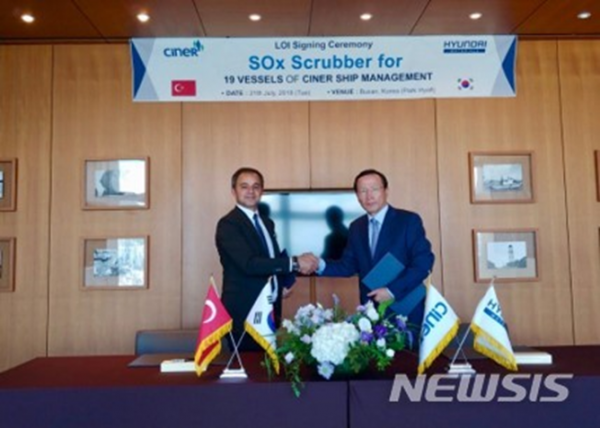 [Seoul = Newsis] Reporter Donghyun Kim =
Hyundai Materials, a manufacturing company specializing in eco-friendly post-treatment equipment in Korea, announced on Aug. 1 that they have signed a contract to supply SOx desulfurizer (scrubber) to 19 vessels owned by Ciner Group on 31st of last month.
​
​The scrubber is a facility that can reduce SOx emitted from ship engines and is a technology that can meet the IMO's global regulations that will come into force in 2020.
​
Hyundai Materials is an affiliate of Hyundai Motor Group, and since its establishment in 2010, the company has been supplying onshore plant and marine environmental systems. In addition to scrubbers, it also has SCR technology that reduces NOx.
​
This scrubber order from this Turkish ship owning company, is a result achieved after a competition with Europe's major scrubber manufacturers. In particular, the existing scrubber type is equipped with a separate filler called a parking material, but Hyundai Materials' scrubber products perform well without the use of fillers.
​
It is said that weight loss, reduced pressure loss, and reduced maintenance costs due to the absence of fillers worked as a great advantage in earning the contract.
 
Further, the fact that Hyundai Materials works in close collaboration with European manufacturers of scrubber materials, that allows favorable and quick material delivery time, worked as another advantage.
​
The company participant mentioned that "for existing vessels operating, the biggest concern for many shipowners is the

[from] newsis/김동현 기자 (oj1001@newsis.com)
[Registered] 2018-08-01